Press Review #27
By Julien Gabel on Tuesday 1 October 2013, 13:23 - Solaris - Permalink
Here is a little press review mostly around Oracle technologies and Solaris in particular, and a little lot more:
How to Use Hardware Fault Management in Oracle Linux
Understanding, installing, enabling, and using IPMI and MCE—two hardware fault management tools in Oracle Linux.
Preparing for #OOW: DB12c, M6, In-memory, Clouds, Big Data... and IoT
It's always difficult to fit the upcoming Oracle Open World topics, and all its sessions in one title, even if "Simplifying IT. Enabling Business Transformation." makes it clear on what Oracle is focusing on, I wanted to be more specific on the "How". At least for those of you who attended Hot Chips conference, some of the acronyms will be familiar to you, some may not (I will come back to "IoT" later). For those of you attending, or those of you who will get the sessions presentations once available online, here are few things that you don't want to miss which will give you not only what Oracle R&D has done for you since last year, but also what customers -like you- have implemented thanks to the red-stack and its partners, being ISVs or SIs.
Misys Kondor+ runs best on SPARC T5
Misys is a leading financial software vendor, providing the broadest portfolio of banking, treasury, trading and risk solutions available on the market. At ISV Engineering, we have a long-standing collaboration with the Kondor+ product line, that came from the Turaz acquisition (formerly part of Thomson Reuters) and now part of the Misys Treasury & Capital Markets (TCM) portfolio. Jean-Marc Jacquot, Senior Technical Consultant at Misys TCM, was recently interviewed by ITplace.TV (in French language) about a recent IT redesign of the Kondor+ installed base at a major French financial institution.
FAQ2: Analyzing Large Volumes of nmon Data
I regularly get asked a question like: I have 4 months of data from 25 machines and have to develop a Capacity Planning model to size these LPARs on to new machines but I am having problems with having so much data. What can you recommend?
FAQ3: How can I Monitoring Shared Processor Pools longer term?
[...] The CPU Pool information is gathered (if switched on) at the HMC via the service processor but extracting it and then using it to generate graphs or spreadsheet data is extremely complex particularly if you have a complex set of up to 64 CPU Pools!
Happy 10th Birthday, DTrace!
Ten years ago this morning — at 10:27a local time, to be exact — DTrace was integrated. On the occasion of DTrace's fifth birthday a half-decade ago, I reflected on much of the drama of the final DTrace splashdown, but much has happend in the DTrace community in the last five years; some highlights...
You won't find this in your phone: A 4GHz 12-core Power8 for badass boxes
Hot Chips Big iron sales are still generating $6bn to $7bn a year for IBM - which is enough to justify designing its own Power processors and building its own wafer baker.
At the Hot Chips conference at Stanford University on Monday, some of the chief architects behind the Power8 electronics were on hand to show off the feeds and speeds of the next-generation motor for the company's Power Systems lineup.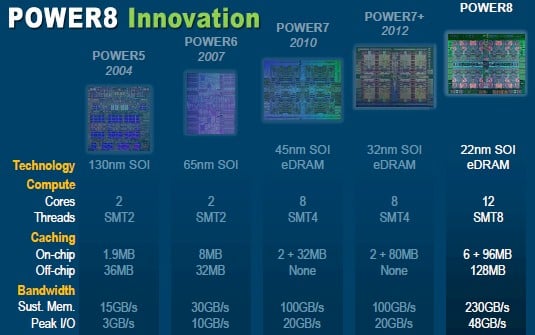 Advanced Network Monitoring Using Oracle Solaris 11 Tools

In this article, we will examine three use cases in order to demonstrate the capability of Oracle Solaris 11 tools. The first use case will show how to measure the network bandwidth between two systems. The second use case will demonstrate how to observe network statistics on a specific TCP port, and the last use case will demonstrate, by example, how to collect and display historical statistics of network resource usage for a given date and time range.
Announcing: ZS3 - Oracle's Next Generation Application Engineered Storage

On 10th of September, Oracle announced its latest ZFS Storage Appliances, the ZS3 Series, that enables customers to accelerate time to insight, while extensive Oracle co-engineering improves operational efficiencies and reduces data center costs through dynamic automation through the Oracle stack. As IT skills converge, the ZS3 provides enterprises with the ability to respond to application needs dynamically while reducing time-to-business benefits.
Solaris 10 Patches Now On Monthly Release Cadence
We've recently moved to a monthly release cadence for Solaris 10 OS patches.

New Solaris 10 OS patches are now available from MOS by the Monday closest to 17th of each month.
Solaris Random Number Generation
How to determine why your AIX oslevel is downlevel (and a script to help!)
To determine the oslevel on AIX, you can run the "oslevel -s" command.   However, what "oslevel -s" reports doesn't always show the entire picture.   The OS level reported will be the lowest level of any installed AIX fileset on your server.
Amazon, Avere and Oracle Offer Up the Most Transformational Technologies at VMworld 2013
The good news is that what Oracle had to share with me about its innovations in storage went well beyond anything I could have possibly imagined and it was certainly better than anything I was hearing on the VMworld show floor. In short, what Oracle has done has brought together the best of what ZFS has to offer and tied that together with the best of what of its Oracle databases have to offer to deliver Oracle application performance that far outshines what anyone else can even remotely hope to offer anytime in the near future.
Top Tips for Updating Solaris 11 Systems
We now have quite a bit of experience of IPS and Repositories under our belt.

Feedback from customers has been extremely positive.  I recently met a customer with 1000+ Solaris servers who told me that with Solaris 10 it took them 2 months to roll out a new patchset across their enterprise.  With Solaris 11, it takes 10 days.  That really helps lower TCO.
Oracle VM virtualization on T4-4 : architecture and service catalog
Last Tuesday, during the SPARC Showcase event, Jean-François Charpentier, François Napoleoni and Sébastien Flourac delivered very interesting uses cases of deployment of latest Oracle Systems at work : Oracle VM virtualization project on T4-4, intensive financial trading on T5-2 and a complete Information System migration to Oracle SuperCluster.
GRTgaz new Information System on Oracle SuperCluster
This testimony from Mr Sébastien Flourac, Head of Strategy for GRTgaz IT, concluded the last week SPARC Showcase event. Mr Flourac highlighted why he selected an Oracle SuperCluster, Engineered Systems, over a more traditional build it yourself approach, that he also studied.
#OOW2013: All your Database in-memory for All your existing applications... on Big Memory Machines
Many announcements have been made today by Larry Ellison, during his opening of Oracle OpenWorld.  [...] On OpenWorld side, it was also very impressive. More people this year are attending the event : 60 000 ! And in terms of big numbers, we saw very impressive results of the new features and products that have been announced today by Larry: Database 12c in-memory option, M6-32 Big Memory Machine, M6-32 SuperCluster and Oracle Database Backup, Logging, Recovery Appliance (yes, I am not joking, that's its real product name !).
PureSystems Anyone?
IBM introduced the PureSystems in April 2012. It was a big deal and it still is. IBM is certain this is the system to converge all systems, with infrastructure in a box--PureFlex--as the solution to the huge business knot caused by IT redundancies. Instead of each platform requiring its own infrastructure, this is one infrastructure for all and all for one. In the past year and a half, the successes have mostly piled up on the X86 side as a server consolidation play, but IBM i shops are in this game, too.
Oracle's SPARC M6
Companies are awash in data. In fact, Science Daily reported that 90% of the world's data was generated over the last two years. Capturing, integrating, and analyzing massive amounts of data from both social media interactions and traditional in-house systems demands a shift to in-memory processing.

With Oracle's new SPARC M6-32 systems, customers can now run entire applications in memory. Based on the SPARC M6 12-core processor, these systems have a staggering 32 terabytes of system memory and up to 384 processor cores with 8-threads per core. The SPARC M6-32 provides twice the memory capacity of IBM Power servers and delivers extreme in-memory compute performance for large-scale, mission-critical workloads and databases. And it offers the highest levels of system availability for core business applications.
Alternative flash architectural implementation options for AIX with detailed instructions on implementing LVM mirroring with preferred read from flash
This document discusses the benefits and positioning of using AIX LVM mirroring with preferred read from Flash/SSD and provides detailed implementation steps to set it up.
Solaris General Session at Oracle Open World 2013
[...]
Here are some of the highlights of what's coming in the next release:

kernel zones: With kernel zones customers will have to option to run different kernel patch levels across different zones while maintaining the simplicity of zones management. We'll also be able to do live migration of kernel zones. All of that across HW platforms, i.e. kernel zones will be available on both SPARC as well as x86. Key benefits of kernel zones:
Low overhead (Lots of optimizations because we run Solaris on Solaris)
Unique security features: Ability to make them immutable by locking down the root file system
Integration with the Solaris resource management capabilities: CPU, memory, I/O, networking
Fully compatible with OVM SPARC as well as native and S10 branded zones
Comprehensive SDN capabilities: Distributed Virtual Switch and VxLAN capabilities
[...]