Here is a little press review around Oracle technologies, and Solaris in particular:
Oracle Delivers On SPARC Promises With New T4 Processors And Systems
This is a major milestone for Oracle and its server community. The virtues of the SuperCluster aside, it is the first tangible product of their commitments to a renewed investment in SPARC processor technology, and as such, it looks impressive. It retains the highly threaded throughput-oriented architecture of the T-series, and makes major improvements in single-threaded performance, which was a weakness in previous generations of T-series technology. But most importantly, it is early, laying to rest the ghosts of previous disasters at Sun and Oracle, validating not only Oracle's intentions but their ability to execute with this new stream of CPU architectures.
CloudSigma invites Solaris to frolic on its cloud
CloudSigma, an infrastructure cloud operator based in Zurich, is letting customers run Solaris and the ZFS file system on its cloud, giving it full peer status with Linux and Windows operating systems.
Robert Jenkins, CloudSigma CTO, tells El Reg that the company is not putting servers using either Sparc64 or Sparc T series processors into its clouds. However, the company will let the x86 version of Solaris 10 run around its cloud and play alongside of myriad Linux and Windows distributions.
The System Developer's Edge, by Darryl Gove
Selected Blog Posts and Articles
The Developer's Edge was envisioned as an almanac for developers, something that gathered together a set of useful resources that could be dipped into, referred to, or read cover-to-cover. The book was never intended as the only location where the information resided, however some of the content is no longer available elsewhere, making it fortuitous that it has been captured here.
While the main body of text has not been changed, the book has been updated to the Oracle brand. The title has changed to include the word "systems", to target the intended audience more clearly.
Oracle Enterprise Manager Cloud Control 12c: Complete, Integrated and Business-Driven Cloud Management
Everyone is now talking about cloud and most of the IT vendor has latched on to the Cloud promise. Traditional systems management vendors are no exceptions. However, in most cases, Cloud is treated as a technology fashion, the newest buzzword in the ever changing landscape of enterprise technology.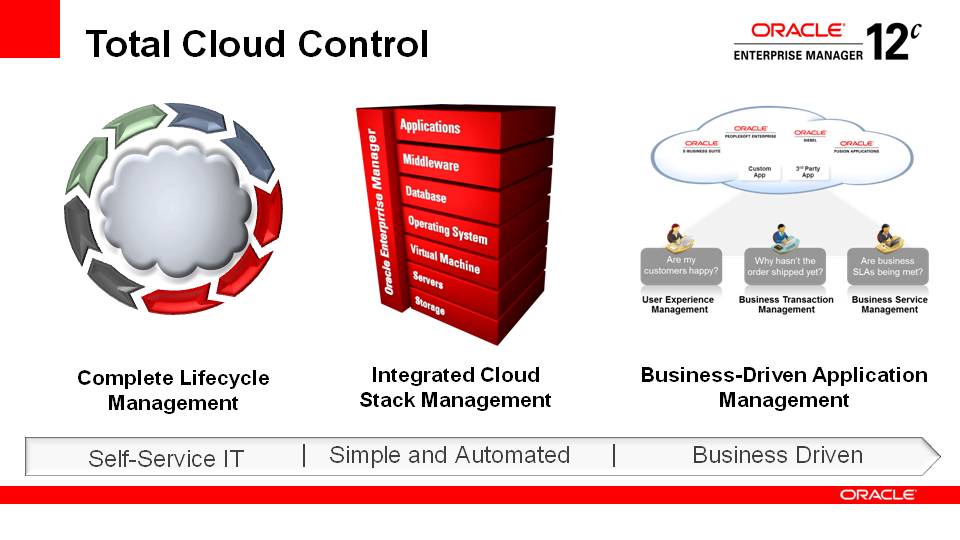 This whitepaper delves into what really makes an enterprise Cloud. It covers the complete cloud life cycle and how Oracle Enterprise Manager 12c offers a complete, integrated and business-driven cloud management.
Engineered and General Purpose Systems
The virtues of Oracle's engineered systems, news about which came to the fore at Oracle OpenWorld2011, are discussed by Jeff Savit's blog post Engineered and General Purpose Systems, where he stresses the economy to the user of Oracle's integrated approach in saving customers time spent on the "non-revenue generating efforts" involved with designing and configuring enterprise systems. Because Oracle's engineered systems are designed to be optimal for a particular workload class, validated and proven by Oracle to be reliable, simple to purchase, configure and manage, and have dramatically superior performance for their target purpose. Furthermore, Savit notes, these systems are built on industry-standard components rather than rare or exotic chips, in order to take advantage of price/performance advances. So, while there will always be a niche at least for general purpose systems, the advantages of the engineered system will prove compelling in most instances, Savit predicts.
Replacing the Application Packaging Developer's guide
The guide is a lot shorter than the old book – currently 56 pages, as opposed to the 190 pages in the document it replaces. Some of this is because of the fewer examples we have, but also we don't have to write about patch creation, complex postinstall or class-action scripting or relocatable packages. IPS is simpler than SVR4 in many ways, though there is a learning curve, which this book aims to help with.
The SPARC T4 servers are here!
The M-Series are designed with Mainframe-class RAS features (Reliability, Availability, Serviceability). They are based on the Sparc64-VII+ CPUs, excelling at single threaded performance.
The T-Series are the CoolThread servers, with the CMT (chipmultithreading) design, they are designed to run heavily parallel workloads, concentrating on throughput, running up to 512 threads actively at the same time, if desired.
The latter category just got a brand new update, let's see, what makes the T4 special.
Completely disabling root logins on Solaris 11
Password (PAM) caching for Solaris su - "a la sudo"
User home directory encryption with ZFS
Immutable Zones on Encrypted ZFS
OpenSSL Versions in Solaris
HOWTO Turn off SPARC T4 or Intel AES-NI crypto acceleration
Here are a few technical blog entries stacked up using new security capabilities of Solaris 11:
Completely disabling root logins on Solaris 11
User home directory encryption with ZFS & PAM
Password caching for Solaris su
Immutable Zones on Encrypted ZFS
OpenSSL Versions in Solaris
HOWTO Turn off SPARC T4 or Intel AES-NI crypto acceleration
Oracle VM vs. VMware vSphere Cost Calculator
This online calculator let you experiment with different scenarios and see the total cost of ownership in real world dollars for various solutions.
Oracle Solaris 11 Engineered for Oracle VM Server Virtualization
Oracle Solaris 11 was announced today. Oracle Solaris 11 is engineered for Oracle VM sever virtualization on both x86 and SPARC based systems, providing deployment flexibility and secure live migration.
Solaris 11 DTrace syscall Provider Changes
Oracle Solaris 11 dropped many commonly used probes from the DTrace syscall provider, a disappointing side-effect of some code refactoring in the system call trap table (PSARC 2010/441 "delete obsolete system call traps"). This breaks a lot of scripts and one liners, including many that are used to teach beginners DTrace. Functionality is still (I think) possible, albeit by learning trap table mappings and tracing those.
What's new on the Solaris 11 Desktop?
Much has been written today about the enterprise and cloud features of Oracle Solaris 11, which was launched today, but what's new for those of us who just like to have the robustness and security of Solaris on our desktop machines? Here are a few of the Solaris 11 desktop highlights.
UNIX - Dead or alive?
The extinction of UNIX is not going to happen in our lifetimes